Real Pounded Yam recipe! A complete How to make pounded yam, recipe with list of pounded yam ingredients, Iyan food pictures and video on how to prepare pounded yam food. Easy as a-b-c pounded yam food instructions and chef notes.
Pounded Yam recipe step by step instructions, list of pounded yam ingredients, easy pounded yam food directions, all from GlobalChefService.com
Pounded yam (Iyan, not fufu) is a traditional delicacy. It is a tasty combination of yam pounded and spicy local soups . It is a traditional delicacy mostly eaten in the Western Region of Africa. It is made basically with yam.
It is New Year, and it came to my notice that I've not even shared African foods so much here.
Then, booom… Memories crept in.
Instantly, I began to soliloquy on the most popular food and King's status delicacy I would have been served if I'm opportuned to be somewhere in Nigeria today. No other food than the most coveted Party Jollof or Pounded Yam, the one pounded not blended one I mean because that is the real deal.
This blog has shared Nigerian Igbo tribe Abacha with you, and also another African dish, Banku but pounded yam is classic for festive period that we are.
Pounded Yam is no doubt one of the most popular dishes in the Africa most especially, Nigeria. But what makes it so popular? What makes pounded yam so good? It's delicious and it's one of the most amazing African staple you can eat.
It is quiet ridiculous to find out you only need yam to make this superb dish… and any soups of your choice to take it
We highlight secrets behind making pounded yam. We will cover almost everything you need to know about cooking pounded yam. Here you will learn the exact ingredients needed to make pounded yam including few chef notes and tips.
This is a complete Pounded Yam recipe article, use below links to jump to sections.
Have you tried the pounded yam before? If you answered yes, you are aware of how great and tasty it is. But what if you have no idea how to make it? For your convenience, I've included a basic recipe guide.
Many people have never heard of pounded yam. It's an African staple. Some of the best would probably be found in Nigeria. Yoruba Iyan is the most popular pounded yam dish and you will usually find it at weddings and parties. In this blog.
Learn how to prepare Pounded Yam, detailed pictorial and video guide to make your awesome Pounded Yam from your kitchen.
Pounded Yam – Nigerian Iyan Food
Pounded yam is an African delicacy, a traditional food item that is popular in the different parts of Africa. It is called Iyan among the Yoruba tribe from. Nigeria. The main ingredient in pounded yam is yam. It is prepared at homes and seen as a premium food when served during festival seasons, weddings, and funerals.
Because Nigeria is one of the world's leading yam producers, it's no wonder that yam is a staple food for many ethnic groups. Nigerians eat a lot of yam.
Yam belongs to the root and tuber family, and it supplies about 200 calories of energy per capita to many Nigerians. When yams are harvested, they are dug up from the ground.
Pounding yam to make a mashed semi-solid paste is one of the most popular ways to prepare and serve it. While pounding yam may appear to be a brute force workout, there is a strategy to it that varies from ethnic group to ethnic group.
The traditional instruments for pounding yam chunks that have been softened by pre-boiling are a mortar and pestle, both constructed of hard wood. People nowadays utilize advanced pounding machines, but using a mortar and pestle produces far superior results.
When I was younger, we used a Mortar and Pestle to pound the yam until it was smooth and doughy. This takes a lot of time, effort, and sweat, but now that I've perfected the use of a hand mixer to make my pounded Yam, it's a lot easier.
To make pounded yam, peel the tubers and chop them into chunks that can be boiled in a kettle of boiling water before pounding them. The slices are easy to cut out because yam tubers are usually cylindrical.
A sharp knife is used to peel the bark. While dexterity is required, the bark can be easily removed. Continue peeling until the yam is entirely whitish in color and all of the bark has been removed.
The hard, whitish interior is hidden beneath the outer coating and can be readily sliced into portions as needed. When boiled in boiling water for a while, these chunks soften. They can be eaten raw or pounded into a soft, marshy material known as pounded yam.
After the yam pieces are split into little bits, the pounder can get to work removing all lumps and creating a smooth pounded yam blend.
At the mortar's content, the pounder switches between mild targeted hits and harsh random strikes. The cadence shifts from furious thunderous beats to slow methodical thumps of the pestle against the mortar in this way.
The stuff in the mortar begins to adhere to the pestle after a few hits, as if accepting that it has been beaten to submission.
In order to smooth out the mold, hot water is added.
Grinding the pestle against the walls of the mortar smooths down the yam even further. Smoothing iterations continue until all bumps have been removed.
By shaping the pounded yam into smaller balls, the finished product is now ready to eat.
Meanwhile, puna yam, true yam, or African yam are all names for the sort of yam that the people eat. It has a tough dark brown skin and off-white meat. They can be cooked in a variety of ways, including boiling, roasting, and frying. If you live outside of Africa, such as in the United States, the ethnic market or online retailers are the best places to find real yams.
Other unrelated root crops are also referred to as Yam in various parts of the world. In the United States, orange-fleshed sweet potatoes are commonly referred to as Yams, and konjac corms are commonly referred to as yams in Japan. All of these, however, are quite different from what Africans utilize.
Pounded yam is served with a variety of soups, with each ethnic group having their own favorites. To keep it moist, it's frequently served in balls and covered in plastic bags.
Pounded Yam Recipe
Pounded Yam is a traditional Yoruba delicacy. It is traditionally a food for the Yoruba people in Nigeria and West African people in general. It is mainly a food eaten at parties, weddings, naming ceremonies and other traditional ceremonies. It is becoming popular among people of other ethnicity in Nigeria. The yam is pounded into a very fine paste and then served with egusi, ogbono, okra, efo-riro and ewedu at times.
Here you have simple and straightforward instructions, step.by step directions on how to prepare Pounded Yam. Also, pounded yam ingredients list and tips.
Recipe
:
Pounded Yam Recipe
Category
:
Swallow
Cuisine
:
African
Author
:
Chef Service
Preparation Time
:
Cooking time
:
Servings
:
6
Average rating:

5.0

of 5.0 from

9841

reviews
Tags
:
pounded yam, pounded yam recipe, iyan, iyan recipe, how to.make iyan, pounded yam food, how to make pounded yam, pounded yam recipe video, easy method of making pounded yam, video on how to prepare pounded yam, how to prepare pounded yam, pounded yam instructions video, pounded yam recipe methods, pounded yam recipe tips, pounded yam recipe pictures, pounded yam food photos, pounded yam step by step instructions, pounded yam cooking methods, pounded yam methods, pounded yam cooking directions
About
:
Pounded Yam recipe guide. It is a West African staple very common with the Yorubas. Learn how to make your authentic food, pounded yam.
Pounded Yam Ingredients List
Here you have all the list of ingredients for making Pounded Yam. Directions and how to prepare pounded yam follows after.
Pounded Yam recipe step by step
Pounded Yam recipe instructions! Here you have all the step by step information on preparation of pounded yam. Easy to follow directions on how to prepare pounded yam recipe below.
Below is a simple recipe for the most hearty pounded yam. The recipe is very simple and you can prepare it in no time. You can as well watch the video that follows later for a step-by-step preparation. This video will guide you to a delicious meal.
Remove the peels from the yams and slice them into half- inch thick slices.

Rinse the yams and place them in a saucepan with enough water to cover them.

Cover and simmer the yams for about 30 minutes, or until fork tender, checking every 10 minutes or so.

Traditionally, you would have to put the hot boiling yam into a portal and pound it well to get out the authentic taste of Pounded yam, but as technology advances, food processors and even powdered yam are now accessible. So, in a food processor, puree the boiled yams until they are smooth and have a dough-like consistency.

Serve with a soup or stew of your choice.
Pounded Yam food images
These are few pounded yam food photos. Carefully taken Pounded Yam food pictures evoking the pounded yam's best traits and its inherent deliciousness. With high quality colors and textures of the dish celebrated enormously.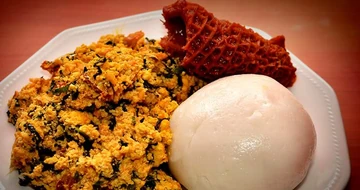 Video on How to make Pounded Yam
Watch the video know-how of Pounded Yam. Have a audio-visual clue and in depth explanations on how to make pounded yam. Below is the video on how to prepare pounded yam.
Video Title:
How to make Pounded Yam
Learn how to make pounded yam. It is a West African staple very common with the Yorubas. This is a video on how to prepare fantastic pounded yam.
As much as possible, you have to take care of your health. Eat healthy food, drink lots of water, exercise, and have a positive outlook on life. If you don't have a positive outlook, you will never get better. And don't forget to find time for yourself. There is always time in the day to take care of yourself.
How to make Pounded Yam, endnote
I hope you enjoyed this post on how to make pounded yam!
In this article, we gave you a basic understanding of what pounded yam is and the steps involved in making it. We hope you enjoyed learning about pounded yam! To learn more, or to see other recipes that we have available, please visit our website today! Give this recipe a try today!
Get out there and try something new today! If you have any other questions or comments about preparing pounded yam, please contact us anytime at here.
If you liked it, please feel free to share it with your friends and family. If you have any comments, questions, or concerns, please feel free to leave them in the comments section below as well.
Thank you for reading, we truly appreciate it!
Thanks for taking out the time to see this nice pounded yam recipe. I believe you will be trying it out very soon or you're just right in the process now. Do like, share and follow us for more.
Once again, let us know your thoughts on Pounded Yam recipe by leaving a comment below.